Innovate to reinvent customer experience or consulting service – of course!
As long as it does not interfere with the customer journey.
"Meet expectations"
For the customer, the desire to find the right information and/or the right product straight away and without effort!
For the retail outlet, the constant wish to offer the customer the best possible experience while simultaneously optimising internal resources. Peak times with crowds of people, or, by contrast, retail outlet characterised by low visitor levels, occasional need to call on an expert or specialist knowledge… What if these problem situations were to become opportunities for your store?
And in more event-style contexts such as trade fairs, the need to innovate and digitalise your stand to attract new customers or partners.
Between innovation and respect for the customer experience
"Phygitalisation of the point of sale" – buzzword or a genuine trend in the retail sector? A bit of both, even if this expression takes on its full significance in connection with the BEAM mobile telepresence solution which has been tested and endorsed by many different names in the retail sector.
It is a simple solution for ensuring customer or user satisfaction in an innovative way while simultaneously pooling internal resources.
BEAM mobile telepresence: multifaceted and multi talented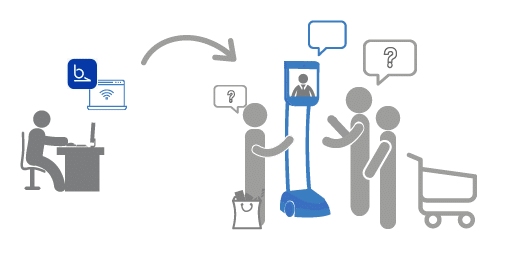 Connect to the BEAM app from a computer, tablet or smartphone!
Control your BEAM robot remotely and interact freely!
Phygitalise the customer experience using the BEAM connected solution!
This is a videoconferencing system equipped with a mobile base that allows users to be seen and heard and, most importantly, to move around the remote site.
Ask for a demo
In the showroom:
ensure customer relations everywhere in the premises, even in far-off, rarely visited areas, thanks to a sales adviser connected from a contact centre, for example;
strengthen the sales teams with a remotely connected salesperson who comes online as and when required, for example during peak visitor hours, without disrupting the customer journey;
permit the intervention of experts on request and only when it is necessary;
And benefit from a very simple way of managing and training remote teams in the field on an everyday basis from the administrative headquarters.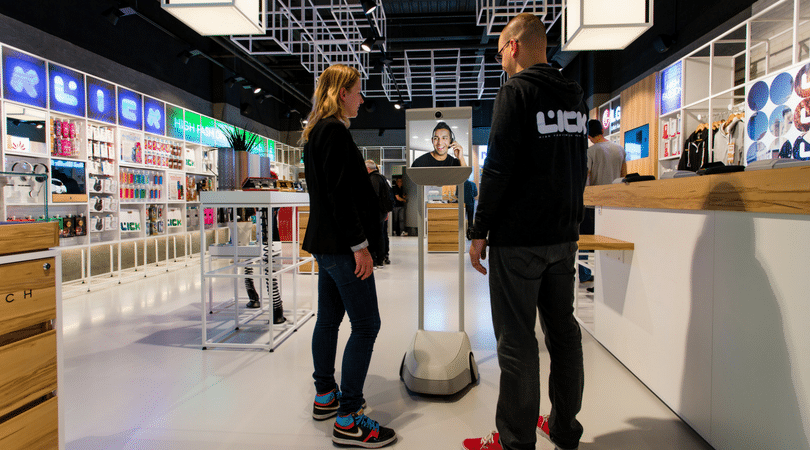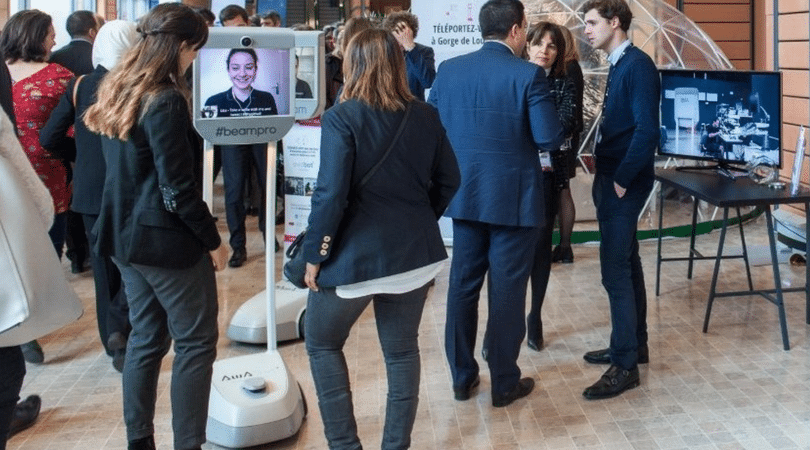 At exhibitions/trade fairs:
welcome your visitors and animate your event spaces with receptionists who are connected remotely in real time;
respond to all visitor profiles (interventions by experts who speak foreign languages and/or are familiar with other cultures);
take advantage of the "wow" effect of a phygital tool that will attract visitors to your stand.
""In the age of customer service 2.0, Lick intends to be at the forefront in using the most persuasive virtual communication solutions. Thanks to the BeamPro telepresence robots, we are reinventing the 'store experience' for our customers."

Stéphane Bohbot, CEO INNOV8 & LICK

"The customer feedback is excellent. After this test phase, Intermarché's Innovation teams are considering the roll-out of this concept.
Other store departments could also make use of this innovation which is unheard of in the mass retail world."
BEAM is also a tool for...