When teleworking, employees need to show the same agility and the same reactivity as if they were in the office and, most importantly, to stay in touch with their colleagues and managers. The risk of isolation and the difficulties of remote management are the first concerns that come to mind when working with employees who perform their tasks remotely. These concerns vanish thanks to BEAM.
Remote working: never without your team thanks to the BEAM telepresence tool!
Very often, the concerns about the "Home Office" that are felt by both employees and employers relate:
to the risk of isolation, on the one hand,
and the difficulties of collaborating and managing remotely, on the other.
It can be seen that throughout Europe, this practice is being increasingly encouraged, in particular through the relaxation of the legal frameworks, in order to reduce the economic and environmental burdens related to the questions of mobility and access to the workplace.
Teleworking and home office: an employee situation between independence and isolation
Are you worried about seeing your home workers lose their team spirit? Afraid of losing reactivity and agility due to the distance that separates you from these employees? The risks are limited, provided that you use the right collaborative tools to avoid:
the traditional problems associated with equipment that doesn't work or difficulties reserving a room equipped for videoconferencing;
the potential difficulties remote employees face in "making themselves heard" in the conversation during periods of group working;
the frequent errors of interpretation due to the inaccurate retranscription of non-verbal communication, etc.;
not forgetting the mobility difficulties of employees with disabilities.
Mobile telepresence, the preferred tool of home workers
More mobile, more agile, more human – the BEAM mobile videoconferencing solution contributes to the worry-free roll-out of for the benefit of employees, their teams and the employer. In this way, users with a remote connection to BEAM can rise to the challenges of the new modes of teleworking:
they have just as much agility and flexibility as if they were on-site thanks to the mobility of the system, which allows them to move around on their own independently of their remote discussion partners;
they can stay in touch with their colleagues and management on an everyday basis by connecting to the tool whenever they want and taking part remotely in all aspects of company life, whether formal or informal.
The BEAM mobile telepresence robot is easy to use: you can connect to it from a computer, tablet or smartphone and then interact and move yourself into the remote area using a mouse or keyboard arrows.
Elegant and compact, the Beam+Max robot is particularly recommended for use in offices and open space environments.
Ask for a demo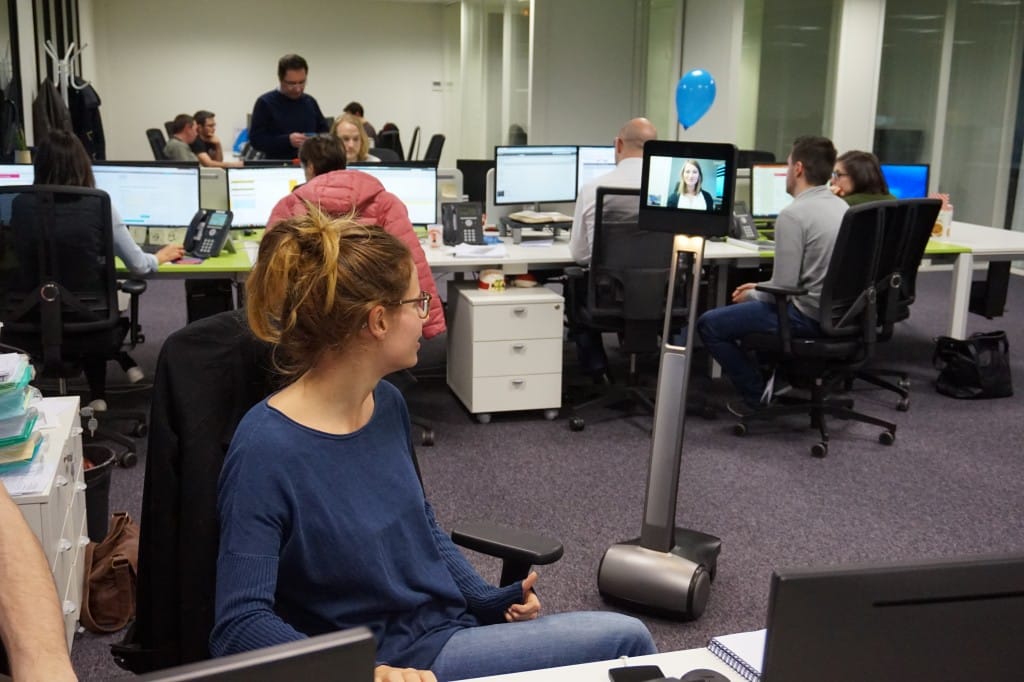 Office life as if you were there!
""BEAM is so immersive that it allows our remote colleagues to see "non-verbal" aspects or stand-up meetings in multidisciplinary teams, as if they were actually present at the location in question, and this irrespective of the mode of interaction: by computer, tablet or 4G mobile phone.""

Laurent Marchou - Open Innovation , IoT & Robotics Director - Orange

"The BEAM robot allows me  to combine home working and company life. Thanks to BEAM, I can connect whenever I want, allowing me to be truly flexible in my private and professional life.
As the mother of a child, I sometimes have to stay at home and thanks to BEAM, I know that I can connect and take part in a meeting remotely from home whenever I want to.
What is more, it gives me great flexibility and independence without inconveniencing anyone at all."
Leslie Desplanques
Marketing Services, Nicomatic
BEAM, it is also a tool for...