Be in two places at the same time thanks to BEAM.
The immersive experience of mobile videoconferencing for business, education, and entertainment.
How does the BEAM solution work?
Mobile telepresence robots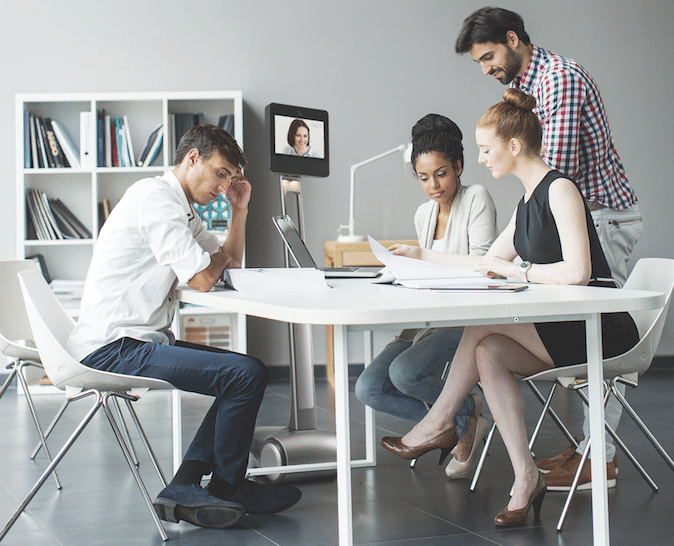 Awabot will support you.
Awabot offers a support service to assist you during the changeover. In addition to our customer service, which you will be able to access as soon you possess a BEAM, we will work with you to install the robot.
This support continues for six months and includes, in particular:
a study of the use cases specific to your business;
definition of the project owner and/or ambassadors;
questionnaires designed to identify the requirements;
definition of success indicators;
monthly follow-up with assessment and avenues for improvement.
Contact us !
As a businessman in the digital sector who works in New York and has offices in France, the USA, and Canada, the BEAM robot allows me to be present everywhere in the world in just a few seconds, and to maintain an informal link with my teams.

Cyril DECHET

CEO, AUTHENTIC Group
One of our speaker could not travel from New York to animate a key session of our seminar.
We tested BEAM for the first time : very easy to use and manipulate before the session.
During the session it was a great success !
Great impact for the audience to discover the speaker/awabot entering in the room, and then high quality of sound and interaction with the audience !
After the pitch itself the speaker/BEAM was able to move around tables to interact with each working groups to comment on their work etc…
Great experience !

Jean-Dominique de Ravignan

Global Learning Director L'Oreal PPD
This solution gives the telephone adviser a truly direct presence and permits visual, mobile contact with customers that gives complete satisfaction.
At locations with low user levels, this solution is an alternative that brings about a genuine improvement in service.

Alexandre Brouzes

Customer Director and Private Individuals BU for SUEZ' "Water France" activity
Since we introduced BEAM into our various Applied Innovation Exchanges throughout the world, we have had more and more high-quality discussions with California, Sweden or Singapore, and this shows our customers the strength of the network that Capgemini has created.

Jean-Claude Guyard

Development Director, Cap Gemini
The BEAM solution has made a much greater impact than we initially imagined: beyond making interactions easier between the night-time production teams and managers, the BEAM robot has helped us change mindsets relating to new technologies and has facilitated the launch of a "Worker 4.0" project in our changing factory environment.

Thomas Moissonnier

HR Manager, Somfy Group
A memorable experience of a robot that you would almost forget was there but is an indispensable aid to communication between human beings.Thank you for this experience and for changing my perception of these "machines"!

Eric Courtalon

Project coordinator, GRTGaz